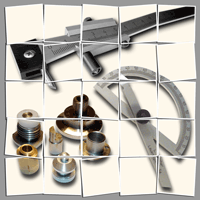 ... to the homepage of Mechanische Werkstatt Lothar Günther,
prop. Tilo Günther (registered sole trader).
Our family business was founded by Mr Lothar Günther in Lauenstein (Saxony) on 1 January, 1990. For over 28 years now, our company headquarters has had its home in the newly constructed residential and office building in Bärenstein, near the town of Glashütte – famous for handcrafted watches – in the Eastern Ore Mountains and not far from our state capital Dresden.

As an accredited precision engineering company, we draw upon our extensive experience in processing machinable metals and a variety of synthetics.

Our manufacturing activities are primarily geared towards measurement and control technology, electronics, optics, telecommunication, aviation and the aerospace, precision and medical engineering industries. We offer the following services:
Turning operations on CNC automatic lathes (STAR SA16-RC; SB16-C )
with capacity up to 16 mm diameter and featuring cross and reverse milling,
batch size starting at 500
Laser processing on 5-axis (Rofin-Sinar machine)
laser source 1.064 µm, wavelength 65 watt
3D material processing with a solid-state laser
e.g. scribing, marking, micro welding/drilling/cutting at lengths up to 400 mm and
at a pulse accuracy of 0.01 mm
Completion of individual parts into small assembly groups, also in connection with drilling and thread-cutting, turning operations on machines, diameters up to 50mm,
Sheet metal processing and perforations up to 1.5 mm
Mechanical processing of synthetics with diameters up to 50 mm
We strive to respond to your enquiries immediately, and are committed to adjusting our products to meet our clients' needs.